Regular price
Sale price
$70.00
Unit price
per
Sale
✨ Limited Edition
This is a 3D model of a digital human with realistic proportions and perfect PBR shading. 
The model comes with a unique particle hair and an identical low-poly mesh card hair (with eyebrows and eyelashes for real time engines).
There are two skin materials: Design (with makeup) and Plain (a clean, hairless skin).
The character's mesh also includes Apple's facial blendShape keys for easy animations using an IPhone X or above (for example, Rokoko's facial animation app), and a Mixamo FK/IK rig for traditional and mocap animation, with accurate weighs for perfect deformations.
The model is fully clothed, wearing a tank top and boxer shorts that can be removed if needed. For sensible reasons, the model comes with no genitals.
This model is perfect either as a background prop, or as a closeup prop due to its high detail and visual quality.
Low polygon count makes it perfect for fast renders and real-time visualization.
Texture resolutions in 4K and 8K for flawless closeups.
Mixamo rig for traditional and motion capture animations.
Apple blendShapes for fast and realistic facial animation.
Low-poly mesh hair, eyebrows and eyelashes for real time engines.
Particle hair, peach fuzz and other body hairs for raytraced rendering.
Transhuman Lite plugin for easier usage and customization.
Scalable environment dome included.
Product format files are Blender and OBJ, and PNG and TIF for the images.

Access to future versions (sing up required).
You can obtain the 3D Software to use this product for free at the Blender Foundation
Product Details

This product will achieve realistic results in your rendering projects and animations, being greatly suited for close-ups due to their high quality topology and PBR shading.

The product contains Albedo, Roughness, Specular, Metallic, Subdermal, Transmission, Height, Opacity, and Normal map (OpenGL) textures.

3D formats

Blender file, OBJ

Download size

636 MB

Geometry (character, mesh hair and clothes)

Quads 104k
Total triangles 207k

Vertices (character, mesh hair and clothes)

130k

PBR

Metalness

Textures

29

Materials

14

UV layers

Yes

Vertex colors

No

Animations

FACE TEST

Rigged geometries


Mixamo IK/FK Rig

Morph geometries


Apple blendShapes

Scale transformations

No
Extras

The Blender file is ready-to-render, and includes an EXR image to lit the scene.

SM5 by Heledahn HDRI-02: Light Tent
Share
View full details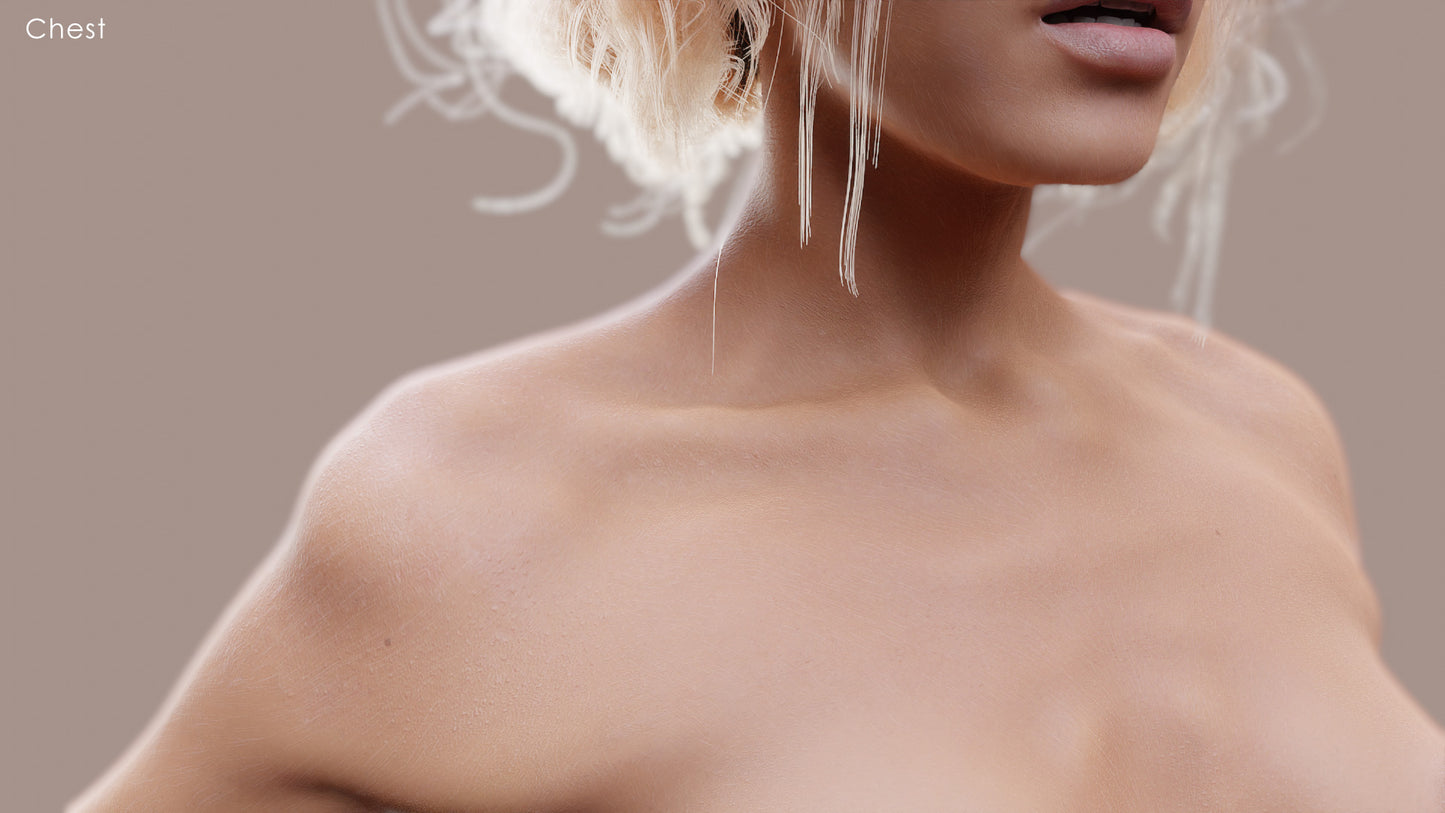 Why choose us?
High Quality, Production Ready Assets

We sell the 3D models and HDRI's that we use in our daily production. We fund our super awesome projects through this shop ✨
Heavily Tested

We use our products in our daily production, so they're heavily tested 💪🏽
Name a Fair Price

If you don't agree with our fee, contact us with the price you'd like and we'll adjust it for you 💖